From August 17, 2016 until August 17, 2016
DESCRIPTION:
Flying cars, hybrid vehicles, massive jets, sleek new fighters, and Mars-bound rockets. These are the kinds of things we consider when we think of our latest heights in the endless evolution of human flight: hardware. Indeed, the old cliché about there being a million parts in an airplane is truer now than ever. But are we ready for this?
ATE, OSG and Mazak teaming up to offer the comprehensive solution for Aerospace
EVENT TITLE:
Aerospace Solution Experience 2016 (AeSolEx 2016)
AGENDA: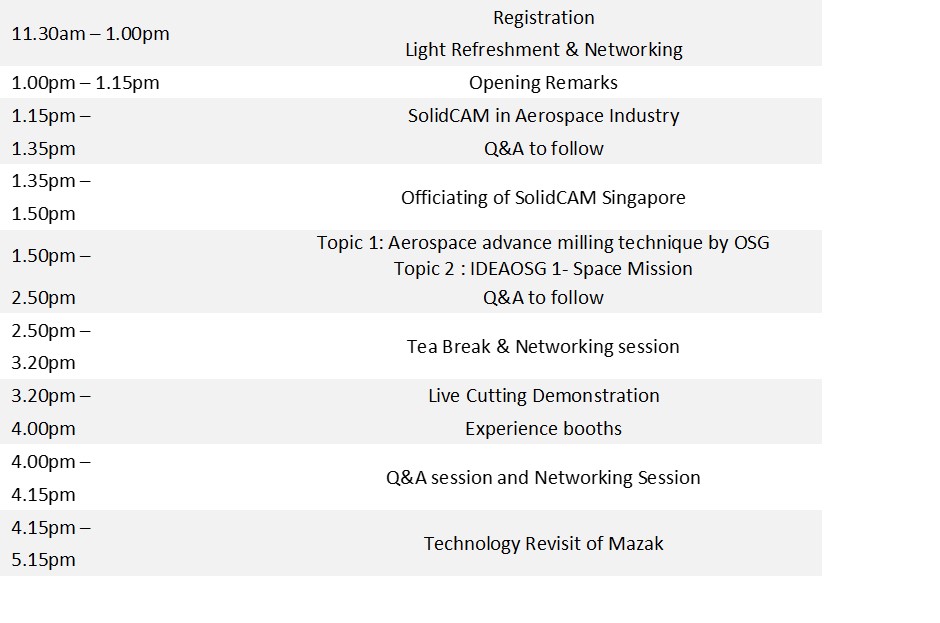 WHO SHOULD ATTEND:
Engineers and Management who want to learn about new trends in Aerospace Industry. Those who would like to know how ATE, Mazak and OSG will value add in meeting engineering challenges.
EVENT FEE
Complimentary
WHEN
Wednesday 17th Aug 2016
1:00PM - 5:00PM
LOCATION:
Yamazaki Mazak (21 Joo Koon Circle Singapore 629053)
FOR MORE INFORMATION
Contact Alex at 6747 0502 or 9112 8717
Email This email address is being protected from spambots. You need JavaScript enabled to view it.